It's time to meet another of our exciting new personalised products!
Introducing to you all, our lovely Personalised Toothbrush Holder.
Bags of Love: Happy New Year Personalised Toothbrush Holder and welcome to Bags of Love.
Personalised Toothbrush Holder: Happy New Year to you too. What a great time to join Bags of Love.
Bags of Love: It's an exciting time, that's for sure. What can you tell our readers about yourself?
Personalised Toothbrush Holder: Well, I am a toothbrush holder, made from ceramic and I am a pretty nifty little personalised gift!
BOL: We're sure you are! What features do you have?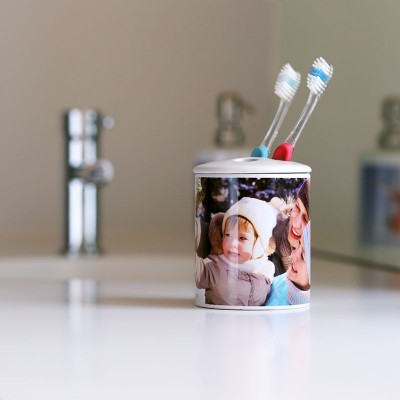 PTH: I am tall enough to hold children and adult size toothbrushes comfortably and I have 4 slots, so I can hold 4 toothbrushes! Perfect for family use. My lid comes off so I am also easy to clean out.
BOL: And the fact that you can be personalised makes you all the more special.
PTH: Exactly! Customers can design me however they like – be it with photos, text (names of the family is very popular) or graphics. We've heard from parents who have designed me for their kids, who might not be that keen on teeth brushing! The parents designed me just for them, with their names and pictures of their favourite cartoon characters, and now, they love brushing their teeth!
BOL: Wow! What a great idea! Especially with Christmas coming up, you'd make a wonderful personalised Christmas gift.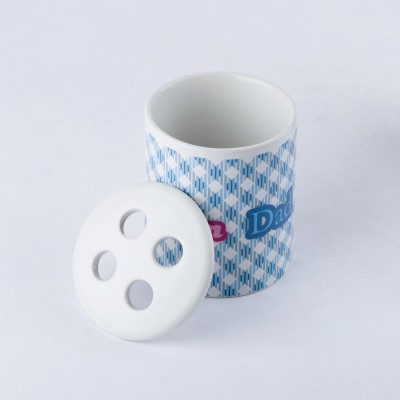 PTH: I think so. But also, I have more than one use. One make-up loving customer designed me for her dressing table and uses the holes in my lid to hold her make-up brushes. Another chap created a design using his company logo and keeps me on his desk to hold his pens. I'm quite a multi-functional product really.
BOL: Those are great examples of how diverse Bags of Love products really are. I'm sure you've given our customers some fun ideas.
PTH: The more imaginative people are when designing me, the happier I am…and the design team. Also, I don't know if you have met my friend, Personalised Soap Dispenser, but we go great together. Customers can create their very own personalised bathroom set by designing both of us. We look pretty fab side by side.
BOL: Well, thank you so much Personalised Toothbrush Holder for chatting to us and we're very happy to have you in the family.
To create your very own toothbrush holder, click here.
Bags of Love x