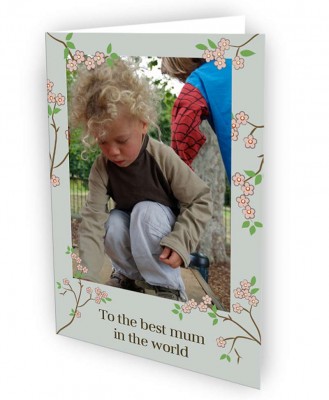 Greeting cards never fail as personalised gifts on big occasions and mother's day is no exception. In great time ahead of occasions such as Christmas and New Years, Valentine's day, mother's day, father's day and Halloween we are bombarded with greeting card choices. The question is, do these greeting cards in the shop really cut it? Will your mum look at the greeting card on Mother's day and see the thoughtfulness you've put into the card? If the answer is no then you need to find alternative options.
Personalised greeting cards are the perfect option. Instead of simply choosing the card that nearly displays your love for your mother, might we suggest that you create your own card so that you can display exactly how you feel? Mother's day gifts need to display a personal level of love and personalised gifts is the way to do so. With our personalised greeting cards you have the liberty of choosing the card design, photo and text.
You may want the photo of your choice to be heart shaped or be nearly as large as the card itself. And you might want a cute print on it too and you would most definitely want to choose the text yourself! By adding a precious photo of you and your mum and your own words to the card it brings the personal level to its highest. If you also want to add mother's day gifts to the personalised greeting cards we have many personalised gifts with the same principles. You choose the gift, you choose the design, photo and text and we create it for you.