A Bag? For A Man? No Way!

When we think of bags, the word and the concept are both inexorably linked to the female psyche. Rightly or wrongly, bags are feminine. But why does this have to be the case? Why can't men benefit from the amazing advantages offered to one who possesses such a useful item? A bag is convenient, portable, and can carry a wide range of things that we need on a daily basis. The only alternative for men to the boring old rucksack, it seems, is a sports bag or holdall. But now there is another option.
We have a new product, a personalised bag for men, that rips apart all convention and provides a man with a comfy, desirable, and 100% personalised bag that makes a fantastic Christmas and birthday gifts idea.
Custom Bag For Men
We took the idea for this present from the classic boot bag into which sportsmen and women place their football and rugby boots for safe keeping. These bags are roomy but retain a simple design that has made the boot bag such a useful item. The handle strap on the top is very sturdy but also not too rough, which means that the bag itself is easy to carry on both long and short journeys. We first designed these bags for the well-known fashion designer Victoria Sowerby.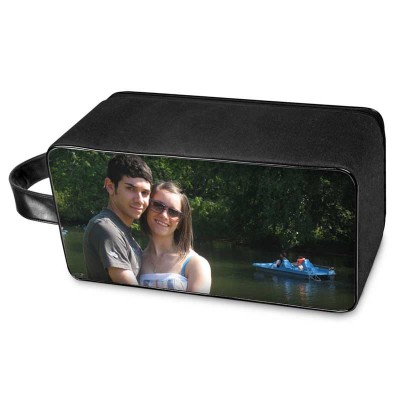 Custom Printed Man Bag
We made an extensive range of prototypes for her Central Saint Martins Degree display in our capital, London. But there is something extra special about being able to design your own bag for men from the comfort of your own home. Place a cool design such as the union jack on the face of one side of the bag, and customise it even further by adding text such as the man's name. Just imagine seeing this at his sports game or even on his casual weekend break – wow! Who knew that bags for men could be so classy, clean, and utterly fabulous?
Make Your Own Weekend Mens Bag
Guys are often a little embarrassed to carry handbags and other girly items, but the great thing about this particular personalised bag for men is that it is modelled on the boot bag. It is masculine without being dull and dreary, and you can customise it in any way you like. This would make a lovely gift for your husband, son, brother, or best friend who needs a handy bag to put all their stuff in and likes some creativity and artistry in his life! Simply log on to our site, select your favourite photo, upload it, and you're away. Super fast delivery, too, so buy now and have your photo bag for men delivered to your door in just a few days.