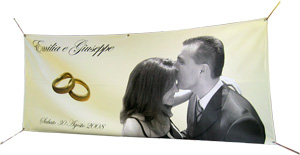 Planning an anniversary party is never an easy job but Bags of Love can help with providing personalised custom banners and a host of personalised anniversary gifts to make your anniversary party a real treat. Wedding anniversaries are special events whether they're celebrating one year or twenty five years together and getting the party just right is almost as important as getting ideal wedding anniversary gifts.
Custom banners are a superb way to decorate the home for an anniversary party. You can add your own images as well as a custom message onto great quality and strong banners. The printing technique used means that the print won't run even if it gets wet and because you can customise the banner to include wedding photographs you can make it a really personal touch for your big party.
Personalised anniversary gifts allow you to add one or more of your own images to any of a range of items. Photo canvases and framed photo prints allow you to display the image of your choice on high quality, great looking items. A huge choice in sizes make the canvas print one of the most desirable gift ideas while a photo block is similar in function to a framed photograph but does require any glass or a frame so is safer, lighter, and more convenient.
Updating your wedding album is a phenomenal idea for an anniversary. Modern albums, as well as photo books, can be customised to include all of your favourite wedding photographs and honeymoon snaps. The photo book can display up to 80 photographs and the front cover can be personalised. Perfect gifts for your spouse or as a gift for a couple you know have an anniversary coming up!