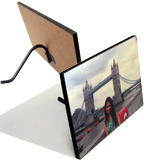 Inexpensive personalised gifts are a great way to give meaningful gifts but at a low price. As well as being cheap, personalised gifts can be customised completely so that they include one or more personal images. Giving personalised gifts enables you to give a treasured gift without spending more money than you need to. We offer personalised gifts for less without compromising on quality or looks.
Smaller items make excellent cheap personalised gifts that can be particularly useful if you want to give a large number. Personalised photo key rings, for example, are perfect for new parents to give to all the member of the family and friends displaying a picture of their newborn baby. Even larger items like photo blocks allow you to buy and give personalised gifts for less while ensuring that the recipient appreciates the effort you put in.
Bags of Love is currently offering a buy two get one free offer on photo canvases. These inexpensive personalised gifts make an excellent alternative to photo frames; gifts for the whole family can be personalised to include images of people, places, or even artwork and what's more, they can be personalised even further by having your images converted into Pop Art before being printed onto high quality photo canvas.
As well as photo canvases, Bags of Love has a host of other cheap personalised gifts that you can give as gifts or keep for yourself. They make the perfect gift to remember a special day or event or as a cherished memory of a loved one. Again, inexpensive personalised gifts can also be used to display more design orientated images such as artwork or artistic photography. The options are only limited by your imagination because you can enjoy great quality personalised gifts for less at Bags of Love.