"The stockings were hung by the chimney with care, in hopes that Saint Nick soon would be there…"
We can't help getting excited about Christmas, even if it is a bit early still. We have a lot of savvy customers, who have already designed and ordered their personalised gifts, all ready for the big day and seeing all of those gorgeous festive designs has made us all start humming Christmas songs!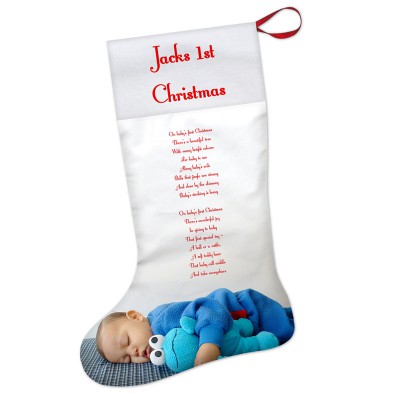 If you are planning your perfect Christmas, then you will love our Personalised Christmas Stocking. Perfect for you, the kids, your pets, the whole family really! A festive classic, the stocking is the perfect way to bring Christmas cheer into your home and our Personalised Stocking is sure to make a welcome addition in your home. Tall and wide, our stocking has plenty of room to fill up with little gifts, sweets and other fun treats. Our personalised stockings are pretty innovative too – our special 2 part design system allows you to create a totally unique stocking.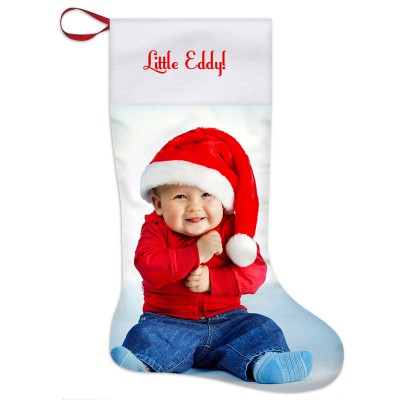 On the top cuff, you can add the name of the loved one the stocking is for, or a special message: "Happy Christmas Jack"
The main stocking section can be designed to feature photos or a photo montage! Our personalised stocking is made from a luxurious suede like fabric with a soft fleece cuff. There is a festive red ribbon loop at the top, making it easy to hang from the fireplace or the foot of a bed.
These Christmas stockings make amazing unique gift ideas and will become part of your family's Christmas tradition. Design one for the whole family and enjoy seeing your personalised stockings lined up beautifully, ready for Father Christmas to fill them up!
If you fancy designing your own Personalised Christmas Stocking, just follow these easy steps:
1) Pay Us a Visit
To view the stocking and all of our other lovely personalised gifts, visit: www.bagsoflove.co.uk
2) Search for a Stocking!
Type "Christmas Stocking" in the search bar, which can be found on the top right of the website
3) Read all About it
Now you are on the Personalised Christmas Stocking page, you can read all you need to know about this wonderful Christmas gift and when you are ready, you can start designing!
4) Let's Get Started
Click on the green "Start Design" button in the middle of the page and follow the easy instructions to create your perfect Christmas stocking
5) Preview and Buy 
Once you are happy with your design, all that is left to do is preview it and purchase it! Click on the green "Preview and Buy" button and your design will be whisked off to our product team, who will start making your stocking by hand, right here in London…I mean…Santa's workshop!
And that's all there is to it! Click here to be taken directly to the design page and you can start creating Personalised Christmas Stockings for you and the whole family.
Merry Christmas!
Bags of Love x