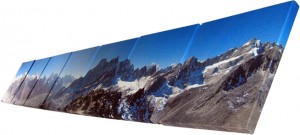 Creating your own unique wall art is a superb way to decorate any wall in any room of the house and it can also be a good looking way of sprucing up your office or workplace. Wherever you intend to display your wall art, the choice of a multi photo canvas prints lets you really use your imagination when picking a design; ensuring the picture crops are just right is one of the more difficult aspects but Bags of Love can help you get the best results.
Triptych art has been used for centuries in religious and more modern art. Facing something of a renaissance now, triptych displays use three panels to display a single image and not only can this effect make any piece of art look incredible but it works equally well with photographs and other digital images. Triptych usually combines three canvases in a row, although the actual design of how the canvases fit together is entirely up to you.
As well as triptych you can use any number of canvases in order to create a staggeringly effective multi canvas wall art piece. From two images upwards, using triptych wall art allows for a unique tiled effect that is difficult to replicate using a single canvas. The break between the photo canvases makes the photograph or image even more striking and enables you to go wild in choosing your own designs and applying them to your wall art.
Bags of Love will gladly work with the image or images that you provide in order to ensure that you get the best results. We will ensure that the crop of the picture can be worked so that the finished product looks effective and we will always send a proof to you for confirmation before we start printing the photo canvas.