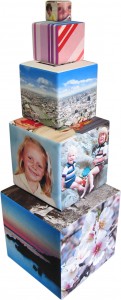 The
photo cube
is an entirely unique way of storing and displaying photographs. Rather than keeping printed photographs in a shoe box in the cupboard, or storing digital images on your hard drive you could have a photo cube.
They are the perfect
gift ideas
for any member of the family, so if you are looking for
gift ideas for dad
, why not treat him to a
cushioned cube
that includes six of your most endearings photographs.
The finely stiched cushioned foam photo cubes have six sides and allows you to choose up to six images for display. You could opt for one single picture that can be repeated on each surface or a single image that can be turned into tiles and each tile displayed on its own cube face. Alternatively you can choose up to six different images and display them in any way you choose on each side.
The foam material is not only durable and long lasting but is fire retardant and safe. They can be stacked with one another, used as stools or foot rests, or they can be given to the kids as memorable toys. So they make great gift ideas for the kids when they have a birthday coming up or Christmas is approaching. The beauty of the photo cube is that they are so uniqe that they can be used for a startling array of ideas. Gift ideas from your photos at their very best basically!
The very nature of the photo cube means that digital photos with a blatant square crop are the most ideally suited but our designers can usually find a more than adequate square crop from any rectangular image. Whether you're looking for safe and fun gift ideas to display digital photographs or want a unique executive toy for your place of work, photo cubes are it!