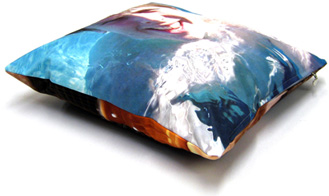 Personalised photo cushions look great, feel great, and last a lifetime while allowing you to add entirely personalised soft furnishing to any room in the house. Ideal for the lounge, the dining room, or the bedroom, photo cushions can be personalised to include one or more images or digital photo. As standard, a single image is printed on the front of the cushion and you can choose the colour of the reverse but you can also pay a little extra and have another image replace the plain rear of the cushion.
The image is printed onto the fabric of the cushion cover which is then placed over a plump and soft cushion. A heart shaped zip is concealed on the edge so that you can take the cover off for washing. The velvety soft material is comfortable but also allows for excellent image reproduction during the printing of your image.
Obviously, a square digital photo would work best because of the shape of the cushion cover. However, Bags of Love can work with the image you upload to find the most appropriate crop should this be required. Alternatively, choose your own crop and send this to us instead.
Personalised photo cushions are ideal to buy when decorating a room in order to give it a personal touch or ensure that you get the exact look in cushion cover that you want. Alternatively, they also make highly appealing personalised gifts for adults and for kids. Personalising the photo cushions with your own choice of image ensures that the recipient will gratefully receive your birthday, Christmas or perhaps anniversary gifts!