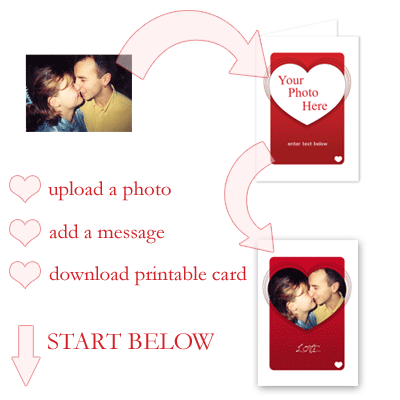 Alongside getting loved ones personalised gifts for Valentine's Day it is also very important to send or give them Valentine's Day cards. You go through the big shelf of ready-made Valentine's Day cards in the card shop on the high street every February but do you always feel like the card you eventually buy is missing that extra something? That extra something is most likely something that gives the card a personal touch.
What is personal about a ready-made card with an impersonal image and impersonal text like "Happy Valentine's Day"? Not a lot. Most people want personal heartfelt Valentine's Day cards with a message that moves you. As Valentine's Day celebrates love and relationships it is also likely that a photo of that love is desirable to the recipient of the card. There for you need Valentine's Day cards with a personal photo and personal text.
And wouldn't it be just great if such a card would be free of charge and printable so you create this card at home? Well that's just what we offer our customers. A Free Valentines card can often lack personalisation but that's not the case with our exclusive free Valentines card. Our free Valentines card allows you to add a personal photo into a red heart and choose bit of text to go underneath it, sealed with a small love heart.
And the process couldn't be any easier. Simply upload a photo (you crop the photo yourself so you can see clearly how the photo fits inside the heart). Then you add text underneath it to give the recipient a personal Valentines message. When that is done you type in your e-mail address so that we can send you the finished template which is ready to be printed. Personalised gifts for Valentine's Day should always be accompanied with Valentine's Day cards and a free Valentines card which can be personalised with an image is simply ideal.