We're shoe people!
Plain and simple. We at Bags of Love have a bit of a thing about fashion – you might have noticed our growing customised fashion range – and in particular, shoes!
So, we thought it was high time we added some more customised footwear to our fashion collection. And that is exactly what we did! Personalised shoes are a great way to show off your unique style. A bespoke pair of shoes needn't cost the earth and at Bags of Love, our designer shoes have been thought up by our resident fashion designer, to ensure you receive custom made shoes, which are stylish, comfortable and of course, personalised by you, for you!
So, allow us to introduce you to our little personalised shoe family.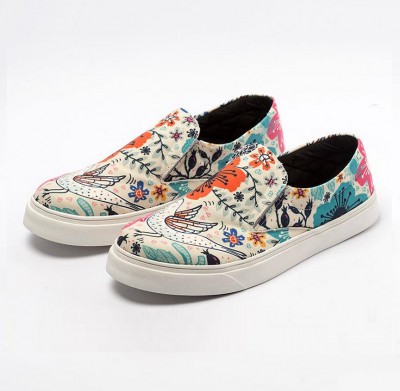 We LOVE our personalised trainers. I mean, really love them! If you are a fan of custom printed Vans or Converse, then you will fall head over heels for our Personalised Slip On Trainers. These customised trainers are completely cut and sew, meaning you can design every part of these bespoke trainers. These fashionable sneakers are truly one of a kind and once you have designed your perfect pair, we will print your designs and sew your trainers together by hand. It doesn't get any more bespoke than that! Rock you style on your feet! Comfy, stylish and made just for you. Have fun designing your perfect pair of trainers exclusively at Bags of Love.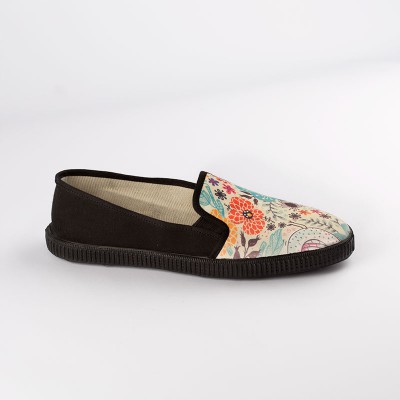 The classic plimsoll is a firm favourite with kids and adults alike! Easy and comfortable to wear and simply stylish, a pair of plimsolls can work well with pretty much any outfit. It was a no brainer then that we decided we have to create a pair of personalised plimsolls – so that is exactly what we did! Our Personalised Plimsolls are unisex and are made from a robust yet comfortable canvas and have a non-slip rubber sole, making them perfect to wear all day long. You can customise the large front panel of these classic plimsolls, to make them unique to you. Upload a photo, a design, a print or even some text and show off your style with our custom printed plimsolls.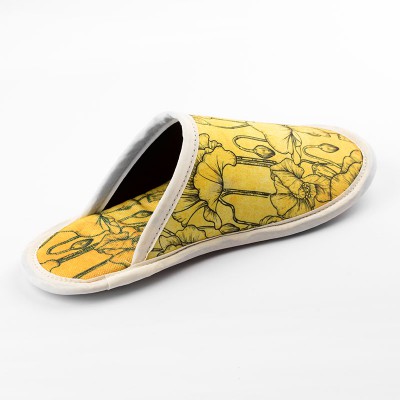 What could be better than a comfy pair of slippers? Why, a PERSONALISED pair of comfy slippers of course! We have created a pair of totally bespoke, handmade slippers, which can be personalised by you! Our cosy slippers have a non slip bottom and your can design pretty much the whole slipper! These customised slippers make great gifts for newly-weds, unique birthday and anniversary presents or as a special treat for yourself. If you love lounging around or having Sunday's curled up on the couch, then you need to invest in a pair of our gorgeous customised slippers.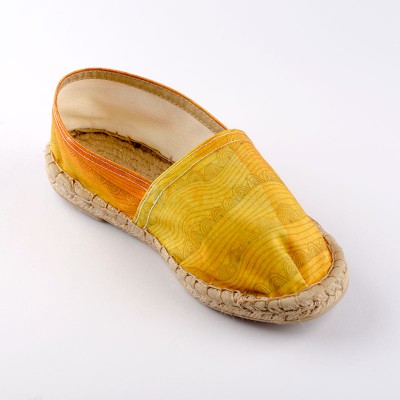 The humble espadrille has worked its way up from being an alternative to the classic flip flop, to a style statement and fashion must-have! A bespoke shoe for men and women, our beautiful handmade espadrilles will look and feel gorgeous all summer long. Your can design the whole espadrille with your photos, designs or text and we will print it and sew it to create a bespoke shoe just for you! With a robust coir sole and interior, these stylish espadrilles look great, whether worn at the beach, around the pool or on the high street. Fashion students and designers particularly love these fashion forward shoes and work brilliantly at creating a unique fashion collection.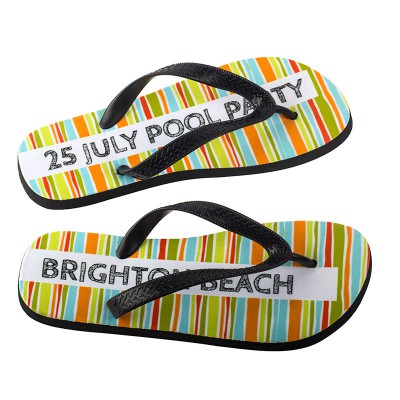 Photo flip flops can look a bit tacky when bought from a generic shop, but when YOU are the designer, you can make them look however you want! Our Personalised Flip Flops make a great photo gift idea for men and women. Make one for the whole family, for the friend who has everything or use them as a distinct and unique marketing tool. You can design the whole foot of the flip flop, so your style will shine through completely. Start getting your summer wardrobe ready now and invest in a pair of custom printed flip flops.
Bags of Love x