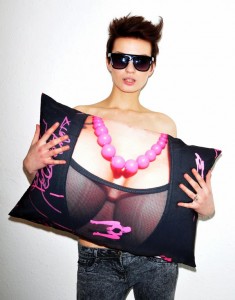 As well as being gift ideas experts, we also cater to many designers here at Bags Of Love. Because we are a printing company online that have such a wide range of products available to customise, we can help many businesses with their sales or promotion.
We've had all kinds of orders, from 200 jigsaw puzzles for a media company to laptop bags for a famous spirits company that hosted a PR event. And many professional and hobby designers, photographers and illustrators use our services to show their work by simply proving us with their digital photo or a scan of their artwork.
The pillow case above is custom made by tongue-in-cheek brand SMUT by designer Sascha Quiambao. If you want your artwork displayed in creative ways, Bags Of Love have many alternatives to help your business expand!