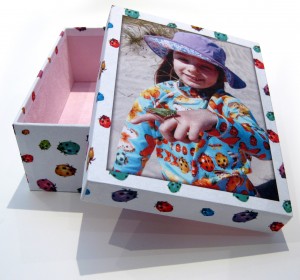 The sky is the limit when it comes to our gorgeous photo boxes. We have created some amazing photo boxes as personalised gifts over time and the customers seem to love them! Using photos, different colours and patterns we can create stunning boxes you can place around your home to spice up your home interior. Different photos, patterns and sizes look great stacked on top of each other or placed individually throughout the home. Combining a favourite pattern with a favourite photo makes THE perfect home accessory.
They also make ideal personalised gifts as you choose the pictures and patterns to go on the box. And the photo boxes aren't just stunning on the outside; the inside is lined with gorgeous suede like material in the colour of your choice. The smooth material make the lid and box look truly elegant. And they come in handy all over the house. You could use the box as a keepsake box for your babies items so that you can pull out the box years later and remember your child as a baby. They are also perfect personalised gifts for the kids. Little girls often love to keep drawings, toys and other things safe in boxes and these cute boxes are perfect for that!
If you need a box to keep bills and notes organised, investing in a personalised photo box is the answer. CDs, DVDs, postcards and collector's items can be kept safe in the boxes too. A travel momentum box makes a great gift for someone you took a holiday with. Put stones from the beach, dinner receipts and museum tickets from a holiday in a photo box covered with photos from the trip! A travel momentum box makes a very unexpected and truly personalised gift. Photo Boxes start at £44.