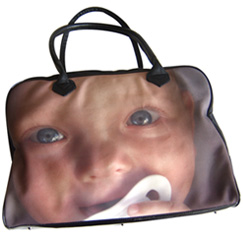 Mums are notoriously difficult to buy presents for but choose the right gift and it'll pay dividends in the long run. Generally speaking, mum's are happy with Christmas gifts that show you've taken the time and effort rather than the fact that you've spent the equivalent of a second mortgage. Personalised photo gifts such as a personalised handbag or a personalised canvas print or photo block, fulfil these requirements in every way; they look great, they show you've put some thought into it, and they don't need to cost a fortune.
It may be a sweeping generalisation but mum's love family photographs. In this digital age of photography, it is becoming less and less common to sit around and wade through the photo box and the photo albums but modern photo books, photo albums, and photo blocks represent superb Christmas gifts for your mum. Pictures of the grandchildren, pictures of yourself, and pictures of the whole family together make the perfect compliment.
A slightly more expensive but incredible stylish personalised photo gifts alternative is the photo canvas. A photo canvas is a print of one or more photographs on high quality canvas that can then be hung on the wall in any room of the house. Available in a selection of different sizes, you might even consider a tiled effect by having one image printed over several canvases.
Photo bags are also a great way of combining the family photograph with a new handbag; sure to be a winning combination as Christmas gift for mum. Vinyl or leather handbags can be customised with the addition of one or more images and as with any customised photo gift, the images can be of anything so it doesn't need to be a family photo.
Calendars, cushions, aprons, and even wallpaper and roller blinds are among the many other options of personalised Christmas gifts for mum. At Bags of Love we offer all of these options and many more allowing you to find the perfect gift for your mum and show her that you care.