Musical events on photos as Christmas Gifts
Do you know that the International Music day falls on October the 1st?
A whole day dedicated to music, any kind of music from any part of the world which aims to promote respect and knowledge about the different artistic principles and values among the nations. The International Music Council (IMC) and its former President Yehudi Menuhin was responsible for implementing International Music Day (IMD) in 1975.
Since then the first of October in every year is all about MUSIC !
For many people music is one of the most important things in life, some simply love to listen to music, others are making the music themselves. Music accompanies you through every stage of your live, through the good times and the bad…but never leaves you alone.
Certain songs remind you instantly of specific moments in your life – so do photos which have captured some of your most treasured situations. Keep them safe and create wonderful and personalised Christmas Gifts for all your loved ones. Christmas Gifts that makes their hearts sing.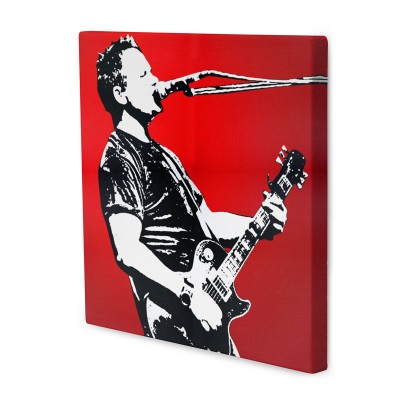 Cool and vibrant wallpaper borders for bedrooms
Show off your love for music and turn your photos from gigs, from the lazy Sunday in the park with friends and the guitar, from your last Karaoke session into great Christmas Gifts. A photo canvas is one of the all-time favourite Christmas Gifts and will make every recipient happy.
Your son is playing in a band and is taking his music quite serious? Encourage him and have a very special Christmas Gift for him: personalised wallpaper borders for bedrooms are a brilliant idea to show off his favourite pictures in a cool way.
You'll see, music makes most people happy, especially when it comes to unique Christmas gifts made from their most important photos related to music!
Take some inspirational notes from the International Music Day and get yourself in the right mood for Christmas and everything that is connected with it like Christmas Gifts.
Jules Combarieu once said, that 'Music is the Art of thinking with sounds' –
we agree and also say that 'personalised Christmas Gifts are the Art of thinking with your heart!'