We keep inventing and reinventing gifts all the time!
We had a gift idea a while ago of a little bag containing a jigsaw puzzle inside. The bag on its own is already neat. It is very well presented and the unique message printed gives a personal touch. The concept behind the jigsaw puzzle inside is of adding a little of mystery to the moment. The recipient would have to put the pieces together to find out something more you want to say with this personalised gift. It can be a message or a picture, or even both. You can create a story with this gift and the sense of surprise makes this gift really special.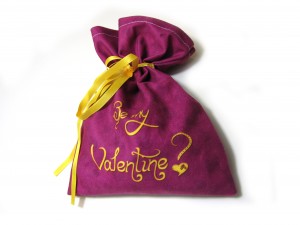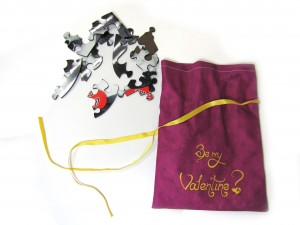 Initially we designed the bag of love for Valentine's Day as you see on the pictures (right).  However, and I'm sorry for being so emphatic on this, you can customise it on any way you want.  Use it to tell your friend how much you enjoyed spending some time together or give it to your son or daughter with their favourite cartoon character imprinted. Or else, you can use to it tell your girlfriend how sorry you are for coming late to your appointment. Quick way to be forgiven! 🙂 No matter what the situation is, with this bag of love in hands you can create a nice caring moment.
And by the way, there is no such thing as perfect time to present someone. If you give a present on special holidays such as Valentine's or Father's Day, in a way, people already expected that. So how about an off-holiday present? Are you ready to make an impression?