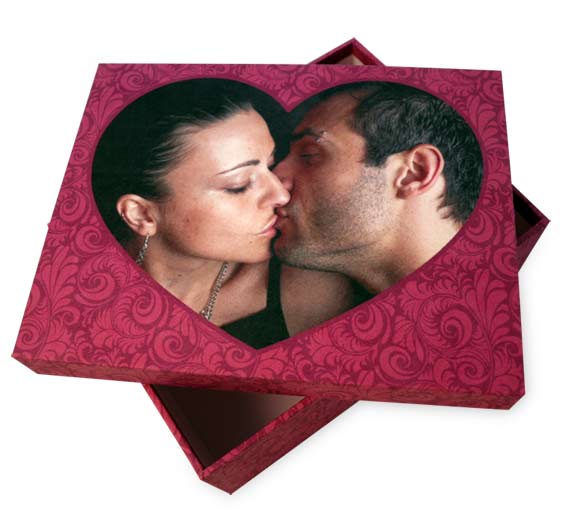 Anniversary gifts season is back
Spring is in the air which means that wedding anniversaries are in the air too. Most weddings take place in the spring and summer so this is certainly the anniversary season. Whether you need 1st anniversary gifts or anniversary gifts for any year for your own spouse or for a couple you know we have what you need. Photo boxes are great for any anniversary but they are especially fantastic if you need 1st anniversary gifts as the boxes are made from sturdy paper.
The Personalised Box of Love
And especially for Valentine's Day gifts and anniversary gifts we've created a personalised box of love. To add that extra bit of romance to the photo box we've added design patterns in which you place your photo in the shape of a heart. The photo of your choice will be positioned in a heart shaped graphic with a design pattern on the outside of the box. But it doesn't stop there. The inside of the personalised box of love can be customised as well. The lining of the box is a luxurious suede fabric with a colour of your preference and you can add a personal message to the inside of the lid.
1st Anniversary gifts – Memorabilia boxes
This box of love works superbly as a memorabilia box for the couple to store items that are important to their marriage. Things like their marriage certificate, love notes, cinema tickets, gifts and photos can be kept in this box as a reminder of their relationship. If you are buying anniversary gifts for your wife or husband you can add these items to the box before you give it away. 1st anniversary gifts like these will last a lifetime and bring much joy to the married couple.