The World Of Anniversary Gifts
When a couple close to you are celebrating their wedding anniversary you want to give them special anniversary gifts. It could be your sister and her husband or your best friends celebrating their anniversary. If you're new to the world of wedding anniversary gifts let us give you a quick run-through of the traditional anniversary gifts.
1st-anniversary gifts are paper
2nd-anniversary gifts cotton
3rd – leather
10th – tin
15th – crystal
20th – china
25th – silver
50th – gold
60th – diamond
3rd Anniversary Gifts: Leather Gifts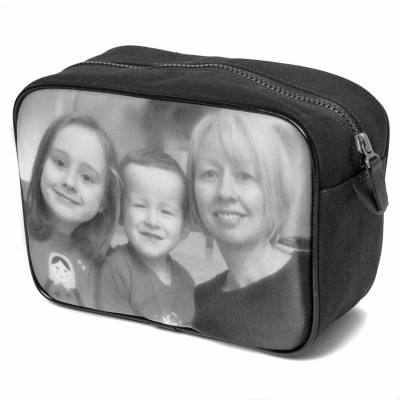 For your sister and her husband who have been married for three years and just had a baby, you could give them matching bags. We have a wide range of leather bags that can be personalised with your photo that makes ideal anniversary gifts. Try a wash bag for him and a make-up bag for her is perfect. Use the same photo of the happy family for the matching his and her bags. They can use these in their everyday life. The image of their family on beautiful quality bags will remind them of their wonderful family. It'll make them smile as they go on with their busy everyday life. Footballer Wayne Rooney has been spotted many times carrying his very own personalised Bags of Love leather wash bag given to him by his wife Coleen.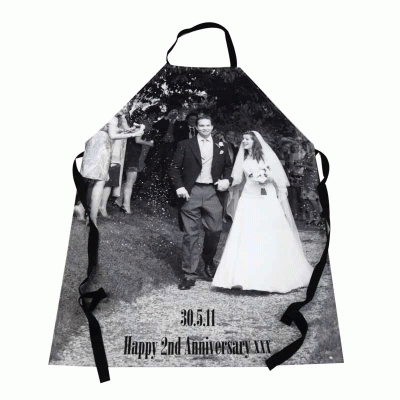 Photo Wedding Anniversary Gifts For Wife
A woman's wedding day is probably the most special day in her life. When you need to buy wedding anniversary gifts for your wife the gifts need to be equally special. When that day comes, which marks your wedding day, it is a lovely gesture to give your wife a thoughtful and romantic wedding anniversary gift. Giving each other gifts each anniversary will keep you reminded of how strong and great your marriage is. Using photos for anniversary gifts is a great way of using all those wedding day photos in a creative way.
Unusual Photo Anniversary Gifts
You probably have photo frames around your house with wedding day photos. Perhaps a wedding photo album or two. There are many other more unusual ways of displaying wedding photos around the house. And anniversary gifts can do just that. Photo gifts such as personalised aprons and personalised photo cushions can be used in the kitchen, living room and the bedroom. These wedding anniversary gifts are far more modern and fun than dusty photo frames on the walls and shelves!
Personalised Aprons For The Chef
The personalised aprons are the ultimate wedding anniversary gifts for the woman who loves to be in the kitchen. She'll love high-quality personalised aprons. Cover them in wedding photos which she can use when she's dishing up something in the kitchen. Use one photo to cover the whole personalised apron or several to put together in a photo montage. You can also add text to both of these types of personalised aprons – the wedding date is ideal!
Personalised Photo Cushions For The Home
The personalised photo cushions are like little pieces of heaven for your home interior. They also make fantastic wedding anniversary gifts for your wife. The velvety material and excellent photo reproduction of the personalised photo cushions made them perfect accessories. They're ideal not only on the living room sofa but in the master bedroom too. The personalised photo cushions can have one or several photos printed on them. You even have the choice to add a personal message.