Christmas Songs and unique Christmas Gifts make me happy
I don't want a lot for Christmas
There is just one thing I need…
Oh well, to be honest, there might be a few more things than just one I need for Christmas, but that might sound a bit too greedy so I better stick to the original and keep on singing that there's only one thing I need for Christmas.
I don't care about the presents
Underneath the Christmas tree…
OK, I have to stop it. I just can't deny the fact that I love presents and unique Christmas Gifts. I mean, what can I do? Even though this song is one of my favourite Christmas songs and every time I hear it on the radio or TV or even in the supermarket I just have to dance and sing along – but these two lines are usually the ones I try to avoid to sing. It's just not true, it doesn't feel right to sing that I don't care about presents. Because I do. Full stop.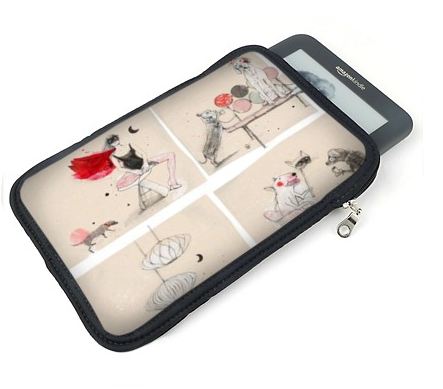 Creating unique Christmas Gifts with my photos makes me happy
And I do not only care about getting them, no, I'd say I even care more about finding the perfect and unique Christmas Gifts for all my friends and family to make them happy and see their eyes sparkling full of joy. Is there anything better than seeing happy faces all around on Christmas morning? Just imagine your sister's face when she opens her present and find a personalised diary, the cover designed with a montage of her favourite images of her pets and friends, a text on the front saying 'Hands off – Laura's Diary'.
Wouldn't she be simply delighted with such a personal and unique Christmas Gift?
I just want you for my own
More than you could ever know…
That is right, and you know that I am talking about you, my lovely Kindle Case!
I have just designed you with my own drawings last night! But I think you do know pretty much how badly I want you because I spent some good time designing you, adding some more drawings and even text…but in the end, you are just perfect.
Can't wait to actually see you!
Make my wish come true
All I want for Christmas is you…
My biggest wish this Christmas is to be surrounded by all my beloved ones and see happy faces and hearts everywhere…
I'll do my best to fulfill my bit and create unique Christmas Gifts!