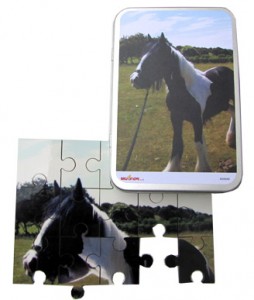 Gift ideas from your photos make great gifts for anyone! A wooden photo jigsaw puzzle is a perfect personalised gift idea for your mum, dad, boyfriend, girlfriend. The photo jigsaw puzzle is available in two sizes, small with 30 pieces and Large with 96 pieces. Great fun and ideal gift ideas.
The picture is beautifully printed on 2.5mm deep wood base topped with a waterproof super gloss laminate for a substantial quality feel. We then print and press it into cut puzzle pieces. It's much thicker, sturdier and glossier than your average cardboard puzzle making it an ideal keepsake.
Your photo jigsaw puzzle comes in a silver tin box with the photo on the hinged lid too making it a very special gift. The neat A6 tin box is perfect for the small puzzle and makes a great gift.
Right now we have an offer on these amazing puzzles, if you buy two you get one free! Simply choose your favourite pictures, maybe a picture of your mum's cat as a gift for her or a picture of you and your boyfriend for him.