---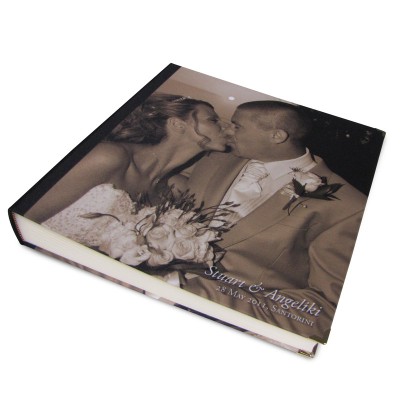 The Photo Wedding Album
When you need anniversary gifts for your partner or a couple you know why not give them the photo wedding album? The photo wedding album is especially created for the use of many wedding photos and they are great personalised wedding anniversary gifts which still allow the gift receiver to personalise it further as their own photos can be added to the photo wedding album. The photo wedding album is the biggest in our photo album range at 33×33.6cm with 100 pages. The square shape of this album makes it suitable for portrait or landscape wedding photos.
Wedding Anniversary Gifts
The photo wedding album is made of Italian thick ivory colour paper with parchment tissue interleaves so they are really luxury wedding anniversary gifts. The satin cover and back of the photo wedding album is printed with a photo of your choice so here you got the chance to impress your partner or the couple with a stunning choice of photo.  The Italian pages of the photo wedding album are self mount so the gift receiver applies their own choice of photos in the arrangement that they want – 10×8″, 8×6″ or 6×4″ sized photos can be added creatively.
1st Anniversary Gifts
As the cutomised photo wedding albums are made from fine Italian paper they make perfect 1st anniversary gifts. The 1st anniversary gifts theme is paper and what's beats Italian luxury paper? Spare this couple of novelty toilet paper and get them something classy and memorable for their first anniversary. Photo books, notebooks, diaries and the book of love are other great 1st anniversary gifts made from paper. As the cover and back of the photo wedding albums are made of silk they also work as 12th wedding anniversary gifts.
Share gift ideas with your friends:
---
Comments
Quote

hello

I was wondering if you do a wedding photo album that holds approx. 600 photos?
if so can you tell me the price and if this can be personalised?
Could you please send me the links for the 600 photos plus album

Many thanks

Quote

Hi Mohammed,

Our Large photo album has 100 pages 31x33cm each and we would recommend adding 2 photos per page. Even if you manage to fit 4 photos per page it would be maximum of 400 photos. For more information please go to our Personalised Albums page http://www.bagsoflove.co.uk/books/photo-albums.aspx You can also use chat to ask us questions.
Leave a Comment